The Ecosa Bed Base was designed with forever in mind. Built solid, means built for life.
It features a stylish headboard or bedhead that complements any bedroom suite. There's also that zen option if you want to do without the headboard with the Ecosa Zen Bed Base.
Ecosa chose to use top-grade American Ash wood for its bed bases to ensure premium quality that'll stand the test of time. These hardwood bed frames use the same tough stuff used to make baseball bats. It is equipped with sturdy slats to support your mattress and comes with a warranty for peace of mind. So whether you prefer a solid wood bed frame or a timber bed frame, Ecosa has you covered.
But what do we really mean when we say these are all quality? Let's explore what wood grades really mean, and how Ecosa wood differs from others on the market.
Wood Grade
All woods have different grades. When manufacturing the Ecosa bed base, we carefully select FAS-grade American Ash wood. FAS stands for first and second, but that does not mean the wood is first and second in terms of quality. For example, 2C grade refers to the leftover wood material that has the most chromatic aberrations and knots. 1C grade refers to the 'average' grade of the wood type, where some parts look perfect, while others are less so. From here, AB grade wood is derived, which is wood that has acceptable flaws, while also having knots and chromatic aberrations.
To obtain our FAS grade wood, we choose the best parts of the 1C grade wood, to ensure we get all the A wood and none of the B wood! It's like pick-and-mix to source the very best wood with the least knots and chromatic aberrations.
Some furniture companies will use lower-grade wood, but cosmetically enhance them by applying a sticker over the top to mask any visual flaws, making it look like FAS quality. Ecosa is committed to sourcing the best wood possible and passing a reasonable price point onto you via our streamlined online business model.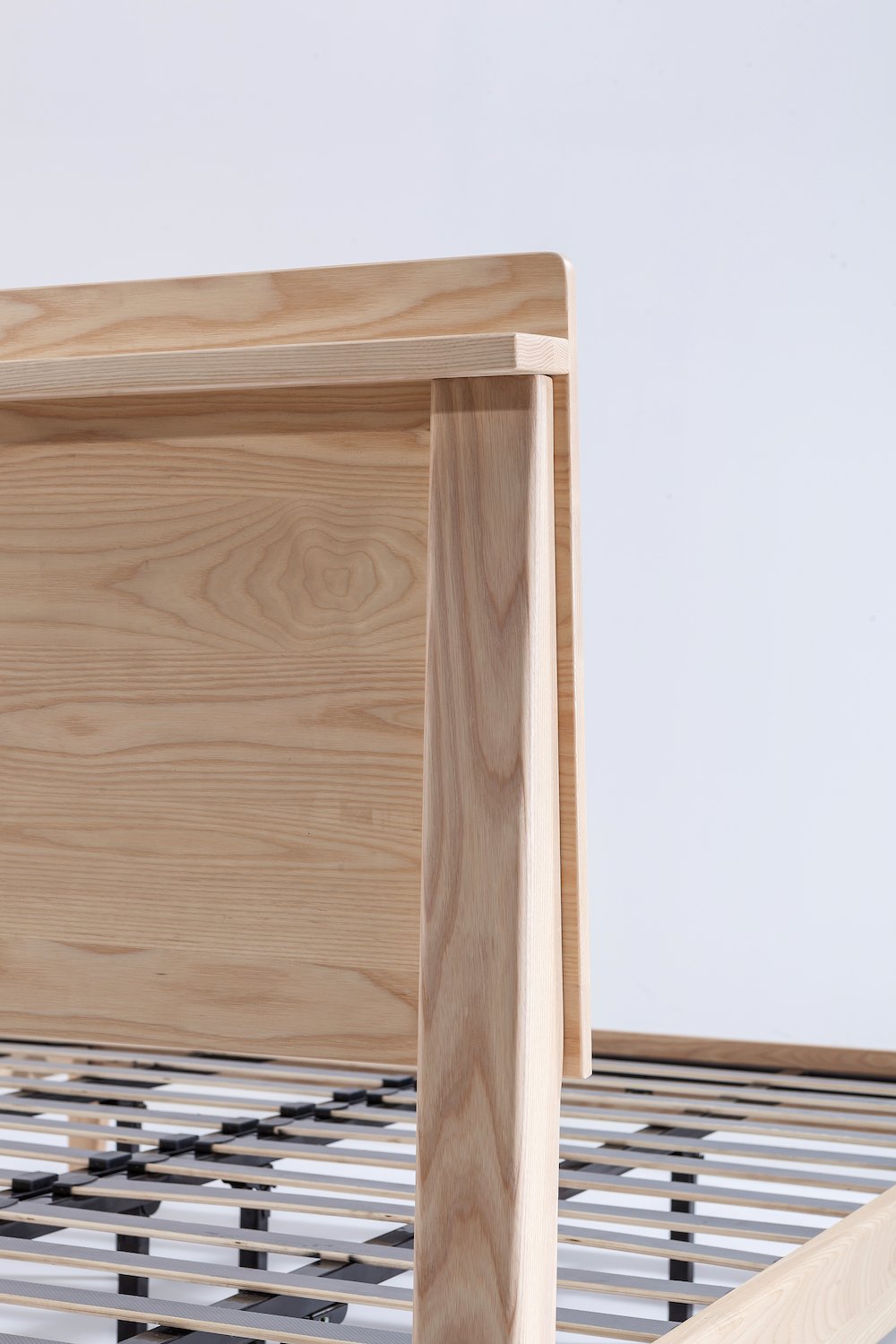 What Else Makes Ecosa Wood Superior to Others on the Market?
Solid Wood vs Plywood
Another trick some manufacturers will use is to call their products 'solid wood', when it's in fact plywood. Plywood is made by gluing together very thin sheets of wood to form a thicker plank. Unlike solid wood which is one solid piece, plywood is built up with layers, making it lighter in weight and far less durable.
Pattern and Grain
High-grade solid wood delivers the true, original wood grain and perfectly natural pattern that real quality wood is all about.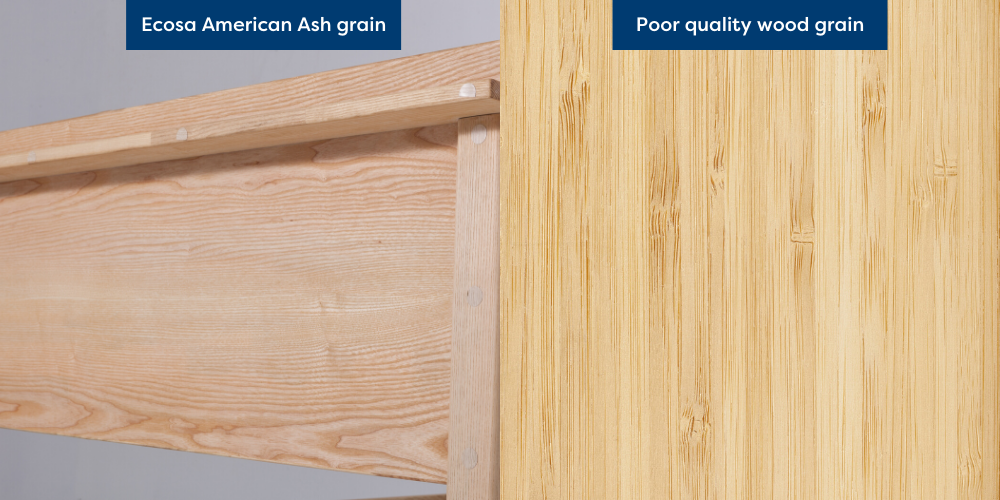 Strength and Durability
The weighty feel of high-grade solid timber is a sign of its strength. There's a reason they use this stuff to make baseball bats! While cheaper, lower-quality bed frames may weaken or bow over time, solid high-grade wood will stand the test of time without losing its strength or look. 
FSC Certified 
The wood used to make the Ecosa bed base is Forestry Stewardship Council certified, ensuring it is always sustainably and fairly sourced. It's custom-made for the environment. Our American Ashwood is sourced from responsible forests that provide environmental, social and economic benefits through the operation.
Ecosa Bed Base Collection
Our bed base collection includes a variety of sizes. Name it – single-size bed frames for single beds, double-size bed frames for double beds, king-single frames for king singles, queen bed frames for queen-size beds, and king bed frames for king-size beds. Ecosa also offers the Rise Bed Frame with an ash timber headboard to complete the look of your bed. The Ecosa bed comes with a solid wood frame and slats for added support and comfort.
Bedroom Furniture to Complete the Look
To complete the look of your bedroom, our collection also includes minimalist bedside tables that are made of the same high-quality American Ash wood as our bed bases. You can achieve that Scandinavian look with the solid wood bed frames that complement well with the tables and other minimal wooden pieces of furniture. Our bedroom suite includes a timber bed frame, side tables, and a wide range of different-size mattresses and sheet sets, providing a cohesive look to your bedroom.
The Ecosa Bed Base also has enough space underneath for storage drawers
Warranty and Quality
At Ecosa, we are confident in the quality of our products, which is why we offer a warranty with every purchase. Our solid wood bed frame comes with a 5-year warranty, giving you peace of mind that your bedroom furniture is built to last – you won't ever have to worry about refunds.
Whether you're looking for a minimalist and stylish bedroom suite or a durable bed base, Ecosa has you covered. Explore our collection of bedroom furniture today and enjoy the quality and affordability of Ecosa.
A Great Price Straight to You
The wood style, certification and grade that we use in the Ecosa bed base would traditionally be substantially more expensive. By skipping the fancy showrooms and in-store sales staff, we pass on premium quality wood furniture to you at an affordable and accessible price. 
Checkout : Ecosa bed base